Hurricane Harvey Disaster Relief Fundraiser
One Community Helping Another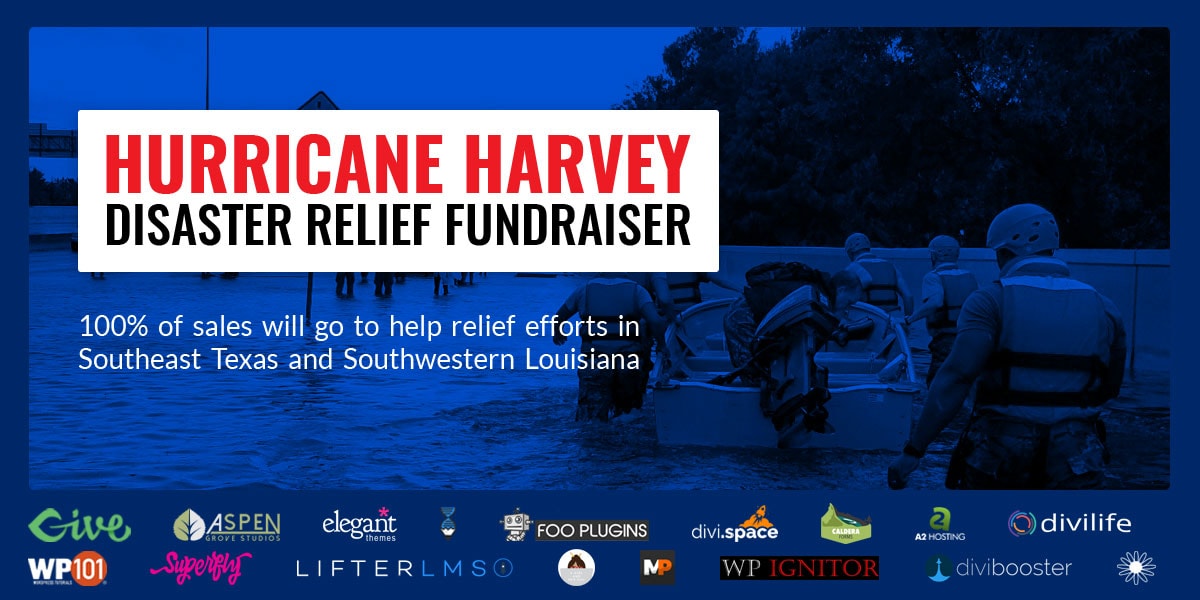 Would you like to help the victims of the Hurricane Harvey disaster, but don't quite know how to get involved?
Several generous members of the WordPress development community have banded together to provide disaster relief following the unfathomable destruction of Hurricane Harvey on areas of Southeast Texas and Southwest Louisiana.
We've set up an extremely easy system to help you show your support and make a donation, and to tailor this relief drive to WordPress professionals we've also put together an amazing bundle deal valued at over $1,700 and filled with incredible WordPress and Divi products. This bundle deal is available as a thank you to those who donate just $50.00 or more.
100% of all sales generated from both bundle deal sales and donations will be distributed to families directly affected as well as to a number of local organizations working around the clock to help victims cope with the devastation left behind after Hurricane Harvey.
What's in the Bundle?
Donations of $50 or more will receive an email with details on how to access this amazing bundle!
How To Donate
To make a donation, simply fill out the form with your personal information and amount you would like to donate. The proceeds will be collected in a PayPal account and the funds will be distributed to local organizations as well as individuals and families directly affected by Hurricane Harvey.
You can donate any amount you wish, EVEN $1 CAN HELP CHANGE A LIFE! When we say no amount is too small WE MEAN IT!
As a token of our appreciation donations of $50 or more will receive a WordPress bundle valued at over $1,700. Individuals or companies who donate $50+ will receive an email with instructions and a coupon code to claim their products.
Please note that Divi Chat is not a 501(c)(3) nonprofit organization. Purchase of this bundle at any amount does not qualify as a tax-deductible charitable contribution. Please discuss with your tax preparer for proper tax treatment.
Donate Now
$22,925.16
of
$25,000.00
raised